Our undertaking
ZETA is clean .
A ZETA centre is located on the outskirts of the city.
At the centre, the waste is:

Received.
Sorted to remove non-vegetal matter.
Rough ground.
Pelletised without delay (One tonne of vegetal material produces an average of 600 kg of pellets).
Stored in silos, or despatched immediately in bulk to boilers around the city.
A ZETA centre is sized to process local waste into fuel for local consumption.
The whole operation is clean from start to finish.

No heavy long-distance transport of the waste
- It is created locally & delivered straight to the local Zeta Centre.
No long-term polluting storage
- The waste has no time to begin rotting or fermenting.
- Disposal is a headache for municipalities, contractors & individuals.
- It overloads waste tips & incinerators.
No fumes, no contaminated water.
No additives
- Pellets are created by simple compression and extrusion.
Low-energy non-chemical processing
- To transform 1 tonne of ground waste into pellets, a ZETA machine consumes 180kWh of electricity, a carbon footprint of 7kg of CO2.
No long-distance transport of the pellets
- They are burnt in boilers of municipal institutional and industrial installations in the urban area where the waste is created.
Stored in silos, or despatched immediately in bulk to boilers around the city.
And when the pellets are burnt as fuel, they emit very much less co2 than fossil fuels 1 and overall, from waste to energy, the carbon footprint is virtually negligible2.
1 Comparative emissions of CO2 in g/kWh .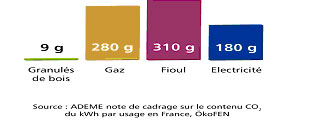 2 Combustion of the pellets emits as much CO2 as the trees and plants captured during growth (part of the photosynthesis process). We say therefore that the pellets are CO2 neutral.
ZETA makes a lot of economic sense.
Investment costs
Generally, heating supply networks are in good condition. The changeover to pellets is, therefore, usually limited to the replacement of the boiler and the installation of a pellet-feeding system.
A Stirling Machine can be integrated into the system, enabling some of the heat produced to be converted into electricity for lighting, appliances... or possibly for resale to the EDF.
With the know-how and skills of our boiler manufacturing partners behind you, the conversion of boilers from heating oil or gas to pellets, or to a combination system, becomes technically simple.
Each potential user first receives a detailed feasibility study and a full financial forecast, based on an analysis of the waste, quantities available, seasonality of supplies, full pellet specifications and operational modelling.
Taking account of the diversity of the raw materials, technological development means that boilers can be adapted to guarantee efficient combustion of pellets with local characteristics (LHV test, ash analysis, atmospheric emissions, etc.), thus avoiding all environmental pollution.

Operating costs
Burning ZETA pellets offers enormous benefits in terms of your total energy expenditure, compared with using fossil-based products like oil or gas:
Very significant reduction in direct energy costs.
Enormous reduction in CO2 emissions and hence in carbon tax payments .
Reduced taxation compared to fossil products.
Stable price of pellets, since the raw material is not subject to economic or political crises or speculative pressures, which impact, often dramatically, the price of fossil fuels .
Secure contractual prices for 3- to 5-year periods .
A recuperation system mounted on the boiler collects combustion ash into a bin with up to six months capacity. The pellet supply contract can include provision for ash recovery, which is turned into an added value item back at the
ZETA
Centre, by compacting it into mini briquettes soluble in water that are used as natural fertiliser complement for plants. Click on
simplified calculator
to enter your current annual consumption of oil and/or gas and to receive an estimate of your
ZETA
pellet volume requirements and the potential direct energy cost savings compared with your present cost. As a guide,
heating a 1000 sq m -building requires about 20 tonnes of pellets annually
.
Payback period
The payback period for the investment is usually between 18 and 36 months and drops to a lot less when State and European Union grants are fed into the equation.